Sewer Camera Inspections in the Columbia Gorge
When dealing with a clogged drain or other plumbing issues, you always hope it's a quick fix you can take care of yourself. Unfortunately, sometimes the problem runs too deep for your abilities—all the way down to the sewer lines.
If you've been dealing with persistent plumbing issues in your home or business in the Columbia Gorge and surrounding areas, call Two Dogs Plumbing & Drain Cleaning for a sewer inspection. Our sewer camera inspection services can help identify the root of your troubles, so we can provide the solution you need.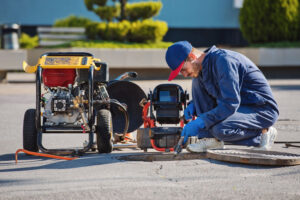 Sewer Camera Inspection Services in The Columbia Gorge
Gone are the days when inspecting your sewer lines meant a plumber digging craters in your yard and destroying your landscape. Using the latest industry technology, our plumbing team can diagnose sewer problems quickly and non-invasively.
Through a sewer camera inspection, we can identify problems in your sewer lines that may be causing problems in your home or business. This includes pinpointing broken or corroded pipes, deep blockages, leaks, or invasive root growth. The faster we can diagnose the issue, the faster we can solve it.
In addition, if you're not sure exactly where a septic tank is located on a particular property, we can find it for you using our camera.
Sewer inspection services from Two Dogs Plumbing & Drain Cleaning can also be used for regular maintenance checks on your sewer lines. Routine sewer camera inspections allow you to catch any developing plumbing problems early and repair them before they become a bigger, more costly, and more destructive issue.
Don't let your plumbing issues get out of control and put stress on your home, business, or mind. Get in touch with Two Dogs Plumbing & Drain Cleaning instead. Our sewer camera inspections are available to property owners in The Dalles, Hood River, the Columbia Gorge, and beyond.
Contact us today to discuss your sewer inspection needs!