Water Line Repair & Replacement Services in the Columbia Gorge
The water line connecting the local water supply to your home or business is a vital component of your plumbing system, but it can also be the source of many problems. Many plumbing issues can be traced back to your water lines. That's why it's important to find a plumber with plenty of water line experience when you need professional help.
Two Dogs Plumbing & Drain Cleaning is your one-stop shop for all plumbing services in and around The Dalles. Along with our many other plumbing service offerings, we can provide underground water line repair and replacement solutions for your home or business.
Water Line Repair & Replacement Services in The Dalles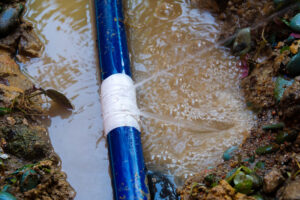 When your main water line or water supply lines need attention, the signs tend to be obvious. You may notice lower water pressure in your home, drainage issues, discolored water, or even an increase in your water bill. These problems can result from mineral buildup, leaking pipes, and other damage to your water lines.
The good news for property owners in the Columbia Gorge area is that Two Dogs Plumbing & Drain Cleaning is highly skilled repairing and replacing water lines. Our family-owned and operated business has been the local go-to plumber for over 15 years, providing expert and timely water line repair services.
Our plumbers can quickly inspect your water lines for issues, identify problem areas, and provide solutions via underground water line repair or replacement. We know what an inconvenience it can be to deal with plumbing problems, so we strive to ensure our services are prompt and exceptional every time.
No matter how big or how small your water line problem is, Two Dogs Plumbing & Drain Cleaning can have it fixed in no time. Reach out to our team in the Columbia Gorge to learn more about our plumbing services today!