Gas Line Repair & Replacement in the Columbia Gorge
All building utilities have their potential hazards, but problems with your gas lines are something you don't want to mess with. If you suspect a gas issue in your home or business, you need an experienced and licensed plumber to fix the problem for you.
At Two Dogs Plumbing & Drain Cleaning, our plumbing team comes with over 40 years of combined experience. Our company has been protecting the safety of families, business owners, and patrons in The Dalles since 2008 with prompt and effective gas line leak detection, repair, and replacement services.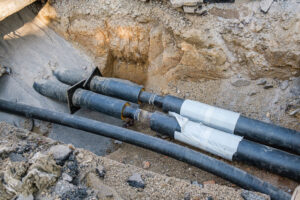 Gas Line Leak Detection, Gas Line Repair & Gas Line Replacement
Natural gas is a vital resource for modern properties. It can power everything from your heat to your appliances and more. Unfortunately, with the use of natural gas comes the potential for gas line leaks, which can put you and your family at risk.
Because gas leaks can be so dangerous, you must enlist a professional to inspect your gas lines at the first sign of trouble. Common signs of a gas leak include:
Rotten egg odor
Hissing sounds coming from gas pipes
Dead or dying plant life
Higher gas bills
Poorly functioning gas appliances
Symptoms of gas inhalation (dizziness, vomiting, confusion, headaches)
If you're noticing any of these gas leak indicators, Two Dogs Plumbing & Drain Cleaning will come to your rescue. We'll inspect your gas lines for a leak and, if we find one, either repair it or replace your gas lines if necessary.
We offer 24/7 emergency plumbing services, which include gas line repair, replacement, and installation, in The Dalles and surrounding areas. No matter what time it is, you can call us, and we'll ensure the safety of you, your family, and your home.
Trust your home or business in the hands of a plumbing company with decades of experience and dedication to serving our local clients with excellence.
Call Two Dogs Plumbing & Drain Cleaning in the Columbia Gorge, Hood River, the Dalles and surrounding areas at 541-980-3867 today to schedule your gas line inspection, repairs, or replacement!